April 4
Beaver Dam workshop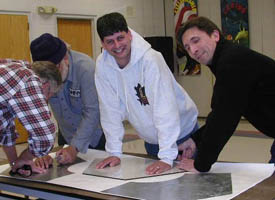 Welcome to the weekly update! I will do my best over the coming weeks to inform he readers of some of the happenings in the midwest. On April 5th, 2003 some members of The Wisconsin Kiters kite club gathered at Prairie View school in Beaver Dam, WI to cut out and partially assemble sled kites made of Tyvek. These kites assembled are then used by the club throughout the year at children's kite workshops. At days end we had produced over 700! Fortunately it goes pretty smoothly with such a fun group.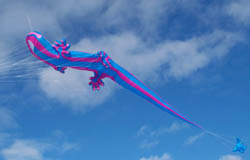 Following the days activities, Greg Rasberry, Jeff Hale and I ventured outside to do a bit of kite wranglin'. The sky was blue, the clouds were white and the air chilly. Luckily, the cold weather kite gear was still accesible from my closet as snow pants came in handy. This was to be the maiden flight of our new mid-sized Peter Lynn gecko in blue and purple. The first thing to do was to find a good spot to tie off to as ground stakes wwere not allowed at the school soccer field with it's underground irrigation system. The pilot went up first as did Greg's new 85 square foot skyfoil. The gecko was then attached to the pilot's line and after a few tweeks to the paws it flew. Jeff Hale tried to inflate his 20 foot tall striped parachute but unfortunately the winds at ground level were to low. Jeff then brought out a revolver box which flew nicely.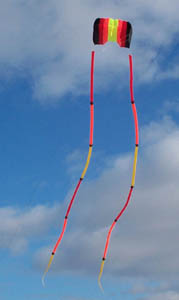 As you can see by the photo Greg's kite and 130 foot long tails made quite an impression. It's hard to believe that he's been flying kites for less than a year. I think it proves that flying kites is addictive and that flying large kites is contagious. Well that's all for this week, be sure and check back again as kite season is just beginning!
---

Back to Weekly Updates