June 5th
Perry Farm Festival, Beaver Dam and Grand Haven
This update will attempt to catch up to our schedule. Back on April 26th, Greg and Carrie Rasberry and I ventured down to Bourbonnais, Il to the Perry Farm Kite Festival. The day was sunny, cool at times and intermittently breezy. We arrived to find Dale and Pam Bowden of Wisconsin flying large deltas on a very small field. This was the large single line kite field. We also found out that the larger field next to us was a practice field for the stunt kite fliers that was not being used. With kite bags in hand our group moved East to takeover the unused area. Now having the space required, we put up as many as four foils, three baskets, one gecko and a few smaller kites. Unfortunately, there was no time for photos, as we were constantly relaunching or untangling something. Wisconsin Kiters club members Art Hass and Donna and Paula Schenk were also in attendance with Paula competing in stunt kite flight.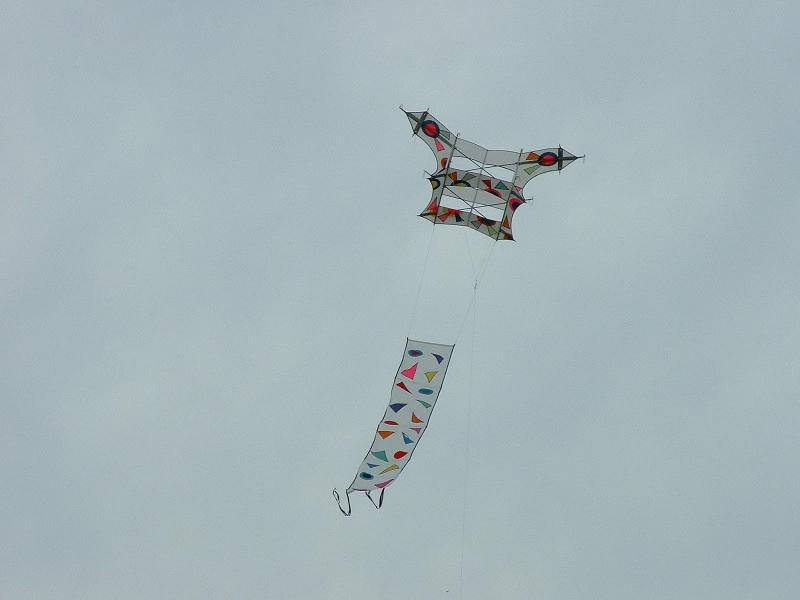 The Wisconsin Kiters club fly in Beaver Dam, WI proved to be a test of kite flier's will or stamina as winds throughout the day peaked at over 25 miles per hour. Other than flying our Buffalo Cody War kite with the banner tail that I'd made, our display was banners, baskets and beach balls. There were quite a few box and cellular kites that did seem well adapted to the conditions. I also did get to fly my new Reflex box kite that was built from a class taught by master kitebuilder Art Hass.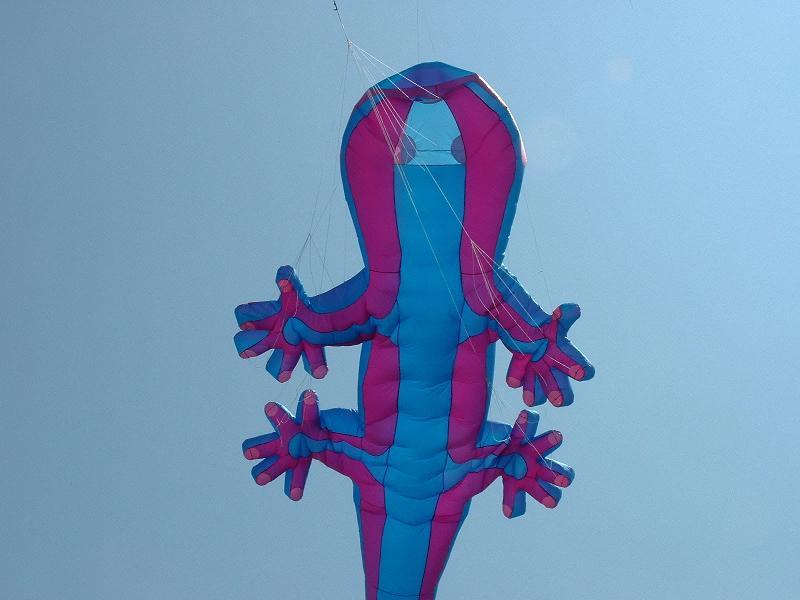 The weekend of the 16th through 18th of May Heidi and I drove to Grand Haven, MI to participate in the Great Lakes Kite Festival held at Grand Haven State Park. Also in attendance were Greg and Carrie Rasberry of Hot Rod Kite Shows, David and Susan Gomberg of Gomberg Kite Productions International and Al Sparling of Sparling Kite Entertainment. Over the weekend both our Geckos saw sky time as well as the Gomberg's Peter Lynn teddy bear and cat and Al Sparling's octopus and trilobite. Al wowed the crowd on Saturday with a flight of the barrel and Greg Rasberry flew his Skyfoil with and without the 130 foot tails. We had sand in our shoes and teeth, flaky winds and a few problems with crowd control but thanks to the company we kept above all else we had a great time. For more photos of Grand Haven, please check out the link page to Sparling Kite Entertainment and the update page at GombergKites.com. Next time-Bong State Park (really).
---

Back to Weekly Updates