June 8th
Bong State Park Kid's Kite Workshop and Kite Fly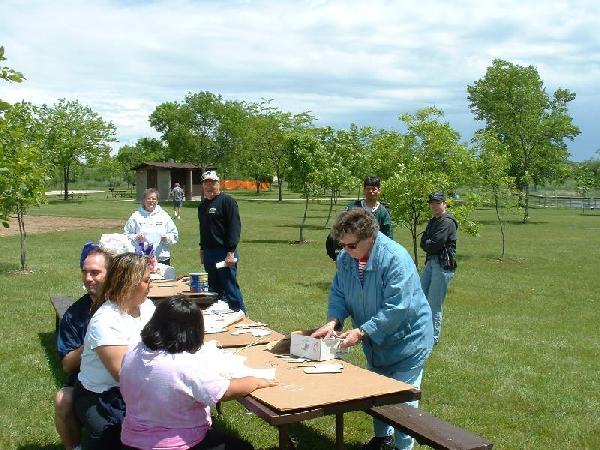 Bong Recreation Area and State Park is located near Kenosha, Wisconsin and named after World War Two flying ace Richard Bong who was born in Wisconsin. This Sunday members of the Wisconsin Kiters Kite club braved the elements and showed some lucky children the fine art of sled kite making. In attendance were Stan and Marie Krueger(pronounced kreeger), Oz and Mary Ann Krueger(pronounced crewger), Mary Berninger, Blanche Jastrow, Jeff Hale, Mike Delfar, Greg and Carrie Rasberry and yours truly. The day began with rain on the trip to the park, this let up long enough for the Rasberry's and I to launch some kites on the baseball diamond which is used as a flying field. Shortly thereafter the clouds came in followed by the rain. Fortunately for us we had taken everything down just prior the the appearance of the first drops.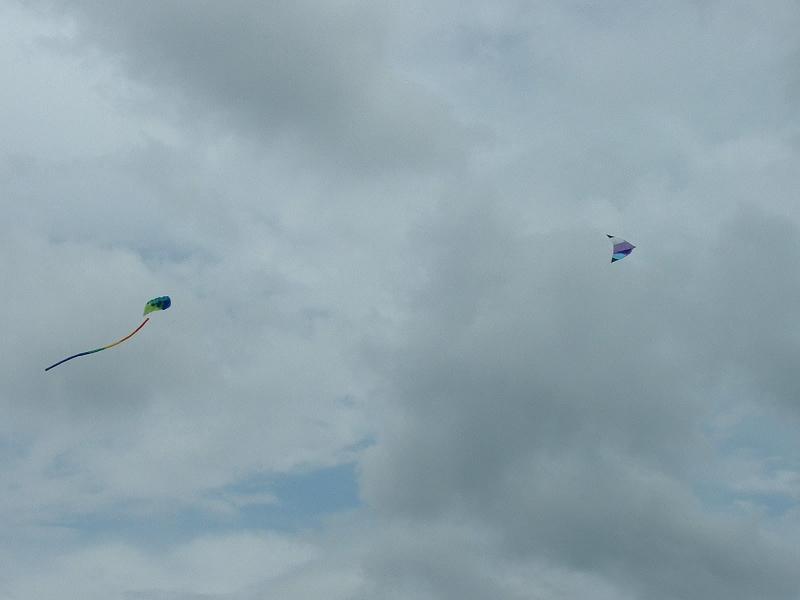 As the day progressed we decided to give it one more try putting up a sunshade and then launching a few kites. We were then joined by Mike Delfar and Jeff Hale who lanched a few interesting single line kites as the clouds began to build again. For those who don't know thes two gentlemen, Mike Delfar is a world class stunt kite flyer from the Milwaukee area and Jeff Hale is a kite flyer with a very interesting collection of multi-line kites, single line kites and ground bouncers. Packing it in for the last time we had just gotten everything into our trucks when the sky opened up. It's really too bad as this is a fun annual event in an interesting location. The Wisconsin Kiters Kite club has been coming down to this park for several years now and while the number of kites built might be smaller the enthusiasm is still good. I always enjoy putting up a few kites and spending some time with some great kite people unfortunately this year things were cut short.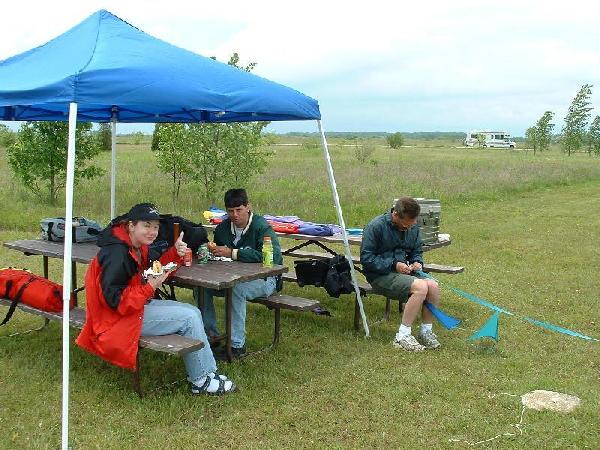 ---

Back to Weekly Updates