October 22nd 2003
Back To Updating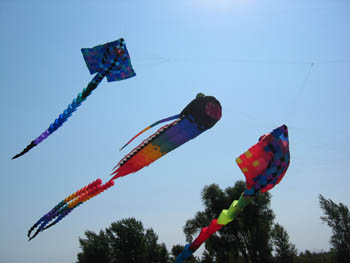 Here I am playing catch up again with the update page. Recently, Chromatic Kites has moved our web site to it's current.com location. With the move came a change in what is required to place these updates on the web. Being a creature of habit it's taken extra input from Greg and Carrie Rasberry to guide me toward becoming a competent updater, so I would first like to thank them and you our update readers for your patience. The first improvement that you will notice is that clicking on some of the photos will now take you to a larger image. In order to bring you the reader up to steam on what's been going on, the events leading up to now have been entered in the same week. Future entries should now appear in a more timely manner.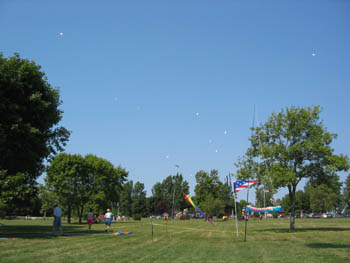 This past September we joined other members of The Wisconsin Kiters kite club at Red Arrow Park in Marinette, WI for the Tri-City United Way kids kite workshop and kite fly. In previous years the event took place at a much smaller park in Menomonee, MI and the newer and larger park and pavillion were a welcome improvement. This move allowed us to bring the larger inflatable figure kites. Combined with kites flown by Al Sparling, Michael Fecteau, Paul Fieber, Barbara Wagner and Ed Grys we put up a good display of both single and multi-line kites. Paul Fieber flew his ghost delta, Ed Grys flew a large delta conyne he'd built and Barbara Wagner brought the brightly colored manta ray you see in the photos.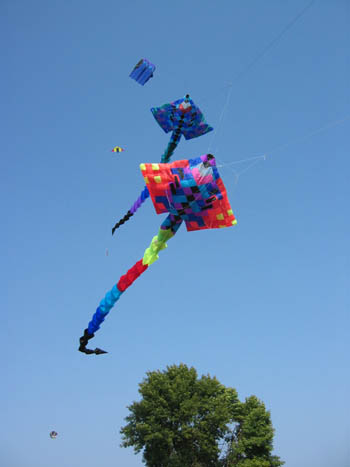 The hard working crew of Wisconsin Kiters including Vern and Julie Morris, Tom and Gloria Wimmer, Oz and Mary Ann Krueger, Scott and Renee Kubly, Shirley Regis And Blanche Jastrow helped local kids assemble 261 Tyvek sled kites making for a successful United Way kickoff event.
---

Back to Weekly Updates