February 8th, 2004
Kites On Ice 2004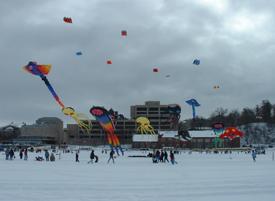 This year's Kites On Ice adventure began with our arrival in Madison Thursday night. The snow that fell made driving somewhat less than ideal but did eliminate the need for ice cleats over the three day festival. Friday was "Kid's Day" and began with a trek out to the large kite field for Greg Rasberry and I. The winds were predicted to be higher than ideal but fortunately remained within the safe range and off of the lake for both Friday and Saturday. Sunday brought a change in wind direction and as a result more turbulance.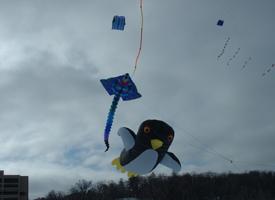 Friday turned out to be a short practice day ending at 1P.M. with no kids making it out to the large kite field. On Saturday crowds were estimated to have been over 45000 according to the Madison Police Department and with the wind at our backs we put on a good show. In addition to Heidi and I, the large kite field had Al Sparling, Gary Engvall, Mike Agner, Greg and Carrie Rasberry, Toby Schlick and David and Susan Gomberg launching no less than four full-size octopoda, two full size trilobites one full-size manta-ray, one mid-size manta-ray, one mid-size penguin and one red devil.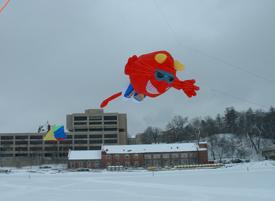 On Sunday due to the winds we spent the better part of the day "kitty wranglin'" with the large cat kite of David and Susan Gomberg's. Mid afternoon we packed up the car and returned home tired but happy. We look forward to next year's festival and the experience that is Kite On Ice. If you'd like to see what "Waddles" our Peter Lynn penguin looks like when he flys, just click on his photo above.
---

Back to Weekly Updates