February 21st, 2004
Color The Wind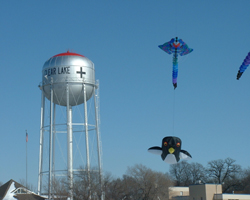 When the invitation came from Larry and Kay Day to go to Clear Lake, Iowa for the Color The Wind kite festival we jumped at the chance. This was the third year for the festival which takes place on the ice of Clear Lake. The area of the lake on which we were flying faced the downtown area and the colorful kites drew a good amount of traffic.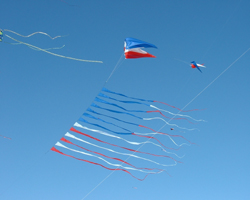 The winds were clean, blowing off the lake and toward shore. These winds allowed for a great show including the octopus, trilobite and blue meanie of Al Sparling, the octopus, gecko and patriotic flowform of Larry Day, the ghost delta of Paul Fieber, our penguin, manta ray and cat, Barbara Meyer's multicolored sled kites with line laundry, Mike Gee's 200 square foot Jordan airform with matching tails and a variety of other kites brought by folks from Minnesota and Iowa.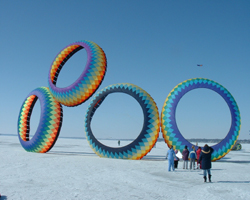 In addition to the kites that were filling the sky, Mike Gee, Al Sparling, Heidi and I put up four crowns which rotated with a colorful display. It was a good deal of work for Mike who was the main crown keeper but the results were worth it. It was a great weekend spent flying kites with good friends. We definetly plan on making the trip to Clear Lake again next year.
---

Back to Weekly Updates