May 9th, 2004
Perry Farm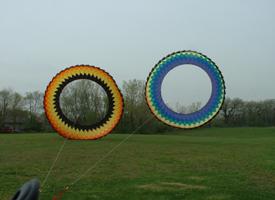 The 2004 Perry Farm Kite Festival took place on April 24th and 25th in Bourbonnais, Il. Heidi and I were happy to be included with invited guests such as Pat and Charlie Sotich, Al Sparling and Greg and Carrie Rasberry. Saturday proved to be the better of the two festival days with reasonable winds and light gray skies. These conditions allowed us to put on a good show until about three-thirty in the afternoon when light rain arrived.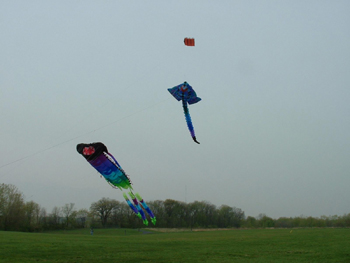 The airborne display included four mid-sized kites with our gecko, manta ray and trilobite in addition to the Rasberry's red devil. Al Sparling had his full-size octopus and trilobite in the air and his barrel(the largest in the United States) was also prominently featured. We too had ground bouncers with both of our crowns entertaining the crowd and Greg and Carrie Rasberry had there black and white basket spinning away.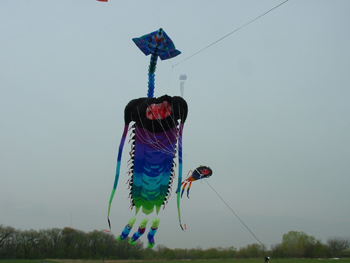 Sunday was not as hospitable as winds were from 22-25 miles per hour and up and the field had it's share of mud from the pervious night's rain. Greg and Carrie had a four square foot flow form up for a time and Al Sparling put up a seventy-five square foot pilot kite and a forty foot spinsock. The pilot did well until the first loop of the bridle broke setting it adrift. After it was recovered we gathered up our things and socialized until shortly after noon when we returned home. Next time Grand Haven!
---

Back to Weekly Updates